Oyo Minerva Guesthouse - Newquay (Cornwall)
Oyo Minerva Guesthouse - Newquay (Cornwall)
50.4141066

,

-5.08363541
$

$$$
|
View on map
Newquay (Cornwall)

,

United Kingdom
|
Reservation:
+44-160-073-8777
|
75 photos
116£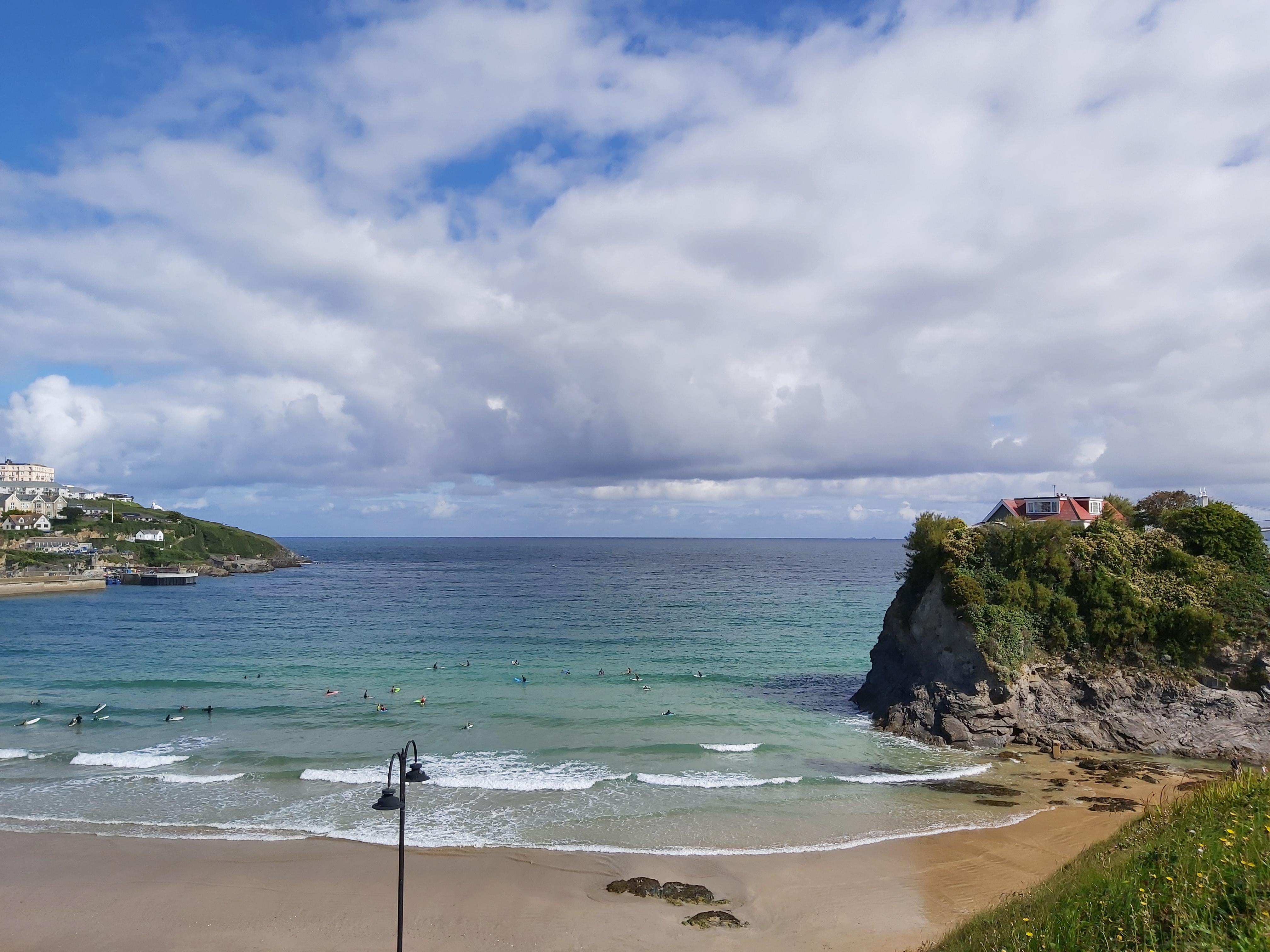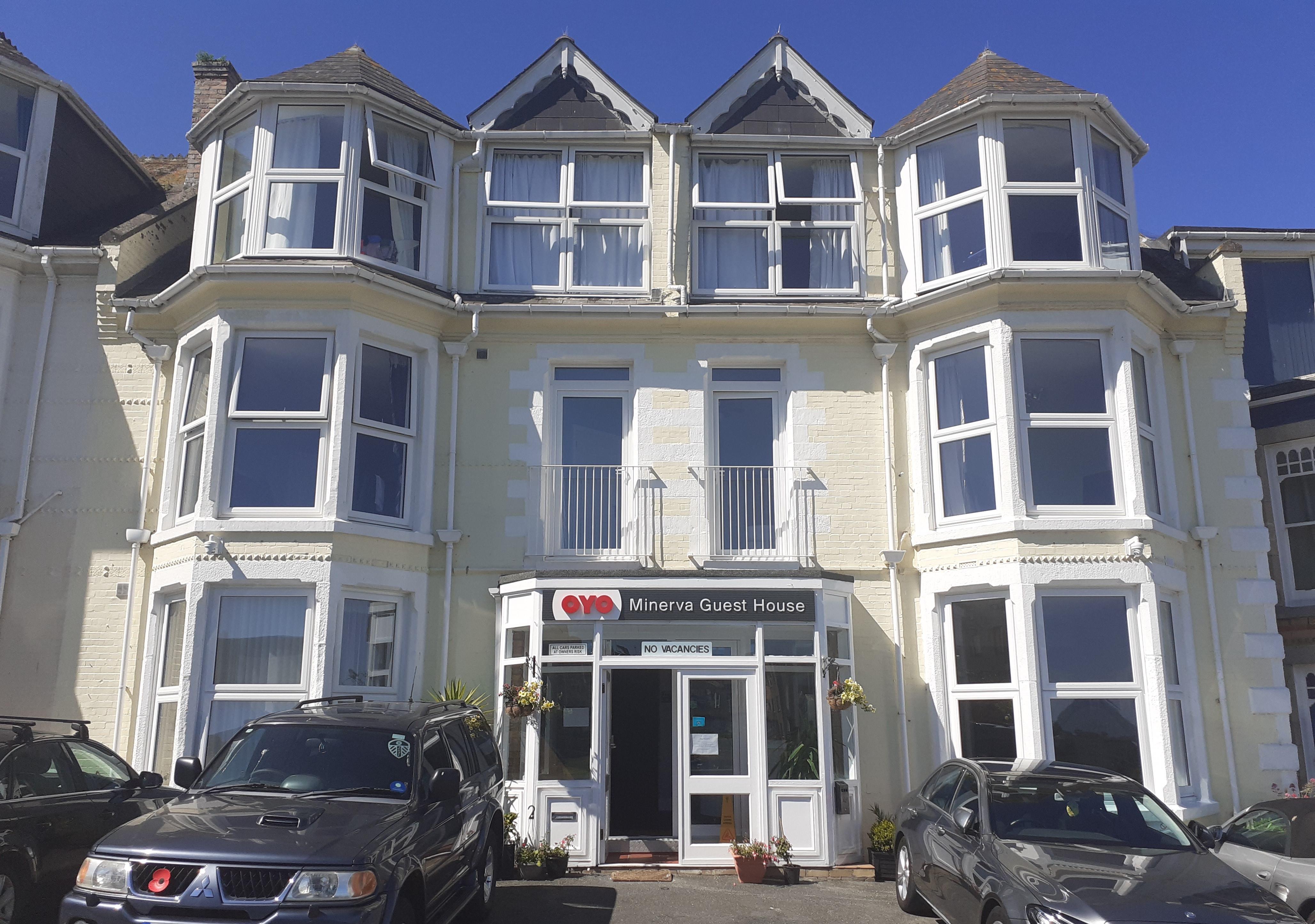 Oyo Minerva Guesthouse - Newquay (Cornwall)
Overview
Set 5 minutes by car from Lusty Glaze Adventure Centre, the 3-star Oyo Minerva Guesthouse Newquay is located in a short walking distance of Killacourt Park.
Location
The centre of Newquay can be reached within 10 minutes' walk of this hotel, and such cultural venues as Trenance Gardens and Cottages are around 1.1 km away. It is 10 minutes' drive from Trerice and just off Blue Reef Aquarium. Nature lovers will appreciate the proximity to Tolcarne Beach, which is around 0.9 km away. This Newquay hotel is placed around an 18-minute walk from Waterworld Leisure Centre, while Newquay bus station is about 10 minutes' walk away.
Rooms
Oyo Minerva Guesthouse has 18 rooms appointed with a multi-channel television, as well as self-catering options such as coffee/tea making facilities.
Eat & Drink
Chinese dishes are offered at Shanghai Express, set around 5 minutes' walk away.
Leisure & Business
The Oyo Minerva Guesthouse features canoeing, hiking and horseback riding for sport lovers.
Good to know
Amenities
No parking available.
Wireless internet is available in public areas for free.
Other information
Breakfast
At the hotel Oyo Minerva Guesthouse guests are invited to a full breakfast served for free. 
Children & extra beds
There are no cots provided in a room. 
Rooms and availability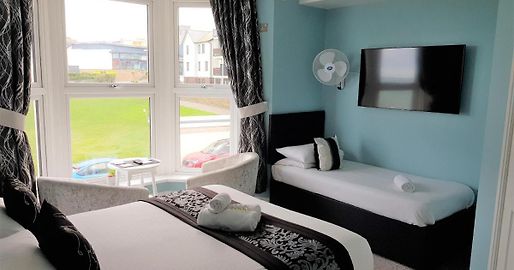 Room size:

9 m²

Bed options: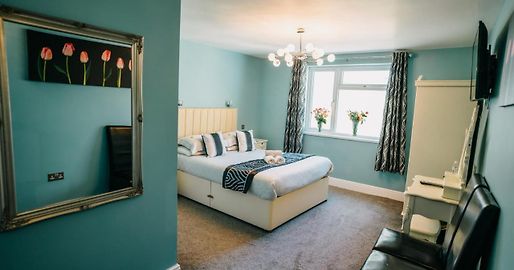 Max:

4 persons

Room size:

9 m²

Bed options: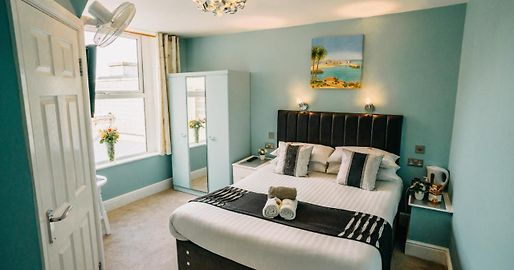 Max:

2 persons

Room size:

9 m²

Bed options:
Show 3 more room types
Less
Facilities
Main facilities
Billiard tables
Hiking
Canoeing
Fishing
Sports & Fitness
Diving
Snorkelling
Canoeing
Hiking
Horseback riding
Golf course
Billiard tables
Fishing
Services
Room service
Housekeeping
Children
Board games
Children's play area
Game room
Spa & Leisure
Live entertainment
Leisure/ TV room
Room view
Sea view
City view
With view
Room features
Heating
Tea and coffee facilities
Show all facilities
Hide facilities
Essential information about Oyo Minerva Guesthouse
| | |
| --- | --- |
| 💵 Lowest room price | 116 £ |
| 📏 Distance to centre | 800 m |
| ✈️ Distance to airport | 9.9 km |
| 🧳 Nearest airport | Newquay, NQY |
Location
Address
The address has been copied.
2-3 The Crescent
,
Newquay (Cornwall)
,
United Kingdom
,England
2-3 The Crescent
,
Newquay (Cornwall)
,
United Kingdom
,England
City landmarks
Nearby
Restaurants
Hotels nearby
Saint Michael's Road
The Parish Church of Saint Michael the Archangel
630 m
Trenance Park
Waterworld Leisure Centre
1.4 km
Park
Trenance Gardens and Cottages
1.1 km
Newquay TR7 2NE
Great Western Beach
960 m
Andrew Henwood Funeral Director
Little Western Railway
960 m
Museum
Newquay Heritage Archive & Museum
320 m
Unit 1
Newquay Activity Centre
260 m
5 Marcus Hill
Newquay Parish Church
250 m
Restaurant
Sprout Health Foods
120 m
Restaurant
Newquay Conservative Club
140 m
Restaurant
Rowe's Cornish Bakers
190 m
Restaurant
The Cornish Bakery Newquay
200 m
Restaurant
Gusto Grill & Roast
250 m
Reviews of Oyo Minerva Guesthouse
Share your experience with us.
Write a Review
Leonard

If we return to Newquay will come back. The hotel is perfect, it has amazingly attentive staff and a downstairs bar. It has magnificent and absolutely perfect location to see Blue Reef Aquarium. Would stay again in this absolutely fantastic area. The venue provided an excellent customer service during our holiday.

Cyril

Stayed at this lovely guesthouse for a weekend getaway with my family. From the moment we arrived, we felt at home. The spacious room was spotless and beautifully decorated, with a clever layout that provided privacy for the kids. Margaret, the owner, was incredibly friendly and accommodating. We were able to leave our bags before check-in, saving us from lugging them around town. The bed was comfy, the waterfall shower was amazing, and the cooked breakfast was delicious. Can't fault our stay at all!

Would be happy to recommend this hotel.

Hugh

The bed was really comfortable and I loved having central heating, multiple TV channels, and a coffee maker.

Elizabeth

Recently refurbished and friendly place to stay in Newquay. The immaculate and fashionable room with a brilliant sea-view. Exceptional service with a good restaurant available. Late check out. Easy location, 10 minutes' walk to Sainsbury's. Enjoyed pretty nice area.

Sidney

Altogether it was great value for money though. Appreciated Newquay, the hotel was newly remodelled right on the beach. The breakfast was generous and plentiful with generous portions, the staff was efficient;))

Well, the views were awful here.

Peter

Immaculate, spotless rooms and exceptional location. Terrific service overall and parking on site.

Daniel

The hotel was clean and the location was brilliant and exceptional in the centre of town. Thanks to the accommodating staff everything was very good, including plenty of delicious food. Our double room was equipped with an electric kettle, central heating and a TV. The view was nice, the breakfast was sensational. We appreciated the terrific service.

Chris

It has incredible location for visiting Blue Reef Aquarium. The bus stop is 15 minutes' walk away.

Andrew

The hotel was a great value for money, with reasonable prices and attention to detail. The location of this hotel, run by John & Maxine, was brilliant as it was only a couple of minutes walk away from the beach and town, as well as various eateries. The rooms were a good size and clean, perfect for a family with a separate connected room with bunk beds. Additionally, the breakfast served was amazing, with table service from the owners and staff. The view from the room was great, with a lovely view of the seafront, and it was close to shops and amenities.

All was more than satisfactory.

Robert

We only slept at the double room, but enjoyed it. A kind of terrific service.

Tom

Clean hotel in an amazing building really close to beach, all shops, restaurants, and bars and the centre of the town. An electric kettle, central heating and a TV in the room and the exceptionally comfortable bed. Appetising assortment of fruit and bacon for breakfast. Brilliant service provided. Everything great.

Richard

This place is conveniently located near a park and only a short walk from a great bar.

David

We absolutely loved our stay at Oyo Minerva Guesthouse in Newquay. The hotel was fantastic! The food was delicious and the staff were so efficient and friendly. The bed was incredibly comfortable and the room was impeccably clean and spacious. We especially enjoyed the lovely sea view from our room. The location of the guesthouse near Towan Beach was simply magnificent.

Frederick

We loved this place - pleasant hotel.

Our room had a very comfy bed and a magnificent view. The service we got was incredible.

John

Stunning and super position in the lovely area, near to the beach and the town centre, Newquay's beachfront and the airport. For tea or coffee visit Pauline's Creamery nearby.
FAQ about Oyo Minerva Guesthouse
How far is the city centre from the Oyo Minerva Guesthouse?
Newquay city centre is reachable within a 10-minute walk from the Oyo Minerva Guesthouse.
Which landmarks should we visit during our stay at the 3-star Oyo Minerva Guesthouse?
Top-rated landmarks in Newquay include the sand Fistral Beach as well as Coastal Valley Camp and Crafts Holiday Park, placed within 1.5 km and 3.1 km from the 3-star Oyo Minerva Guesthouse respectively. Trerice (4.4 km) is also worth a visit.
What are our dining options during the stay at the Oyo Minerva Guesthouse?
Unfortunately, the Oyo Minerva Guesthouse does not offer on-site dining options, but there is a variety of restaurants just outside the property - visit café Sprout Health Foods for the taste of international cuisine (150 m) or Oggy Oggy the Pasty Company, which is popular for its British dishes (200 m).
What is the timeframe for check-in and check-out in the Newquay hotel?
Guests of the Newquay hotel can check in from 15:00 to 22:00 and check out from 10:00 to 11:00. Late check-out is also available upon request.
How much does a room at the hotel cost?
The price for a room in the hotel starts at £118.
What are the room types offered by the Oyo Minerva Guesthouse?
The Oyo Minerva Guesthouse provides such room types as Double Room, Deluxe Room and Triple Room.
Which facilities are included in the rooms at the Oyo Minerva Guesthouse?
Every room at the Oyo Minerva Guesthouse includes a multi-channel television for guests' entertainment.
Is free internet provided in the Oyo Minerva Guesthouse?
Yes, the Oyo Minerva Guesthouse provides Wi-Fi available throughout the property for free.
Best-Rated OYO Rooms Hotels around Newquay (Cornwall)
Feeling at home while on the go is what OYO Rooms brand promises to its guests. Whether traveling for business or leisure, the brand offers affordable, high-quality accommodation with top-notch amenities that cater to all travelers' needs, making their stay unforgettable. Bookings are hassle-free, and customer service is on standby 24/7. Make your next trip the best yet with OYO Rooms.
60 reviews

146.82£ / night

458 reviews

69.09£ / night

992 reviews

61.24£ / night

60 reviews

58.88£ / night

942 reviews

31.40£ / night

87 reviews

21.20£ / night

249 reviews

18.84£ / night

38 reviews

98.14£ / night